This is one of my absolute favorite easy recipes. Ghee and lemon and shrimp and herbs come together for some serious flavor power, and the prep time is just about 5 minutes!
I came across a really similar recipe on Pinterest a long time ago (I can't find the actual link to the recipe anymore). It called for butter and an "Italian seasoning packet," which I assume meant something like one of those ranch dressing packets from the store.
With a few simple changes, I made it Whole30 compliant and it's now basically the most versatile thing I make. There really is no reason at all that you shouldn't make this. Unless of course you're allergic to shrimp. But other than that, I can't think of another reason. It's extremely easy and fast, and will dazzle your family or guests.
Instructions
If using frozen shrimp, thaw in the fridge overnight and rinse/drain off any excess liquid.
Preheat oven to 350F.
Take a 13×9″ pan (I use a glass one) and melt about 1/4-1/3 cup of ghee in the bottom. (The easiest way is to put the ghee in the pan and put the pan in the oven for a few minutes.).
Slice two lemons thinly, and place them in the pan in a single layer (reserve a few for the top if desired). Add the shrimp to the pan on top of the lemons (also in a single layer) and sprinkle with a generous amount of salt, pepper, and italian seasoning. You can actually use ANY seasoning you want here. Why not cajun seasoning? Or Herbs de Provence? Or Greek seasoning? Wow, ok, my mouth is seriously watering now.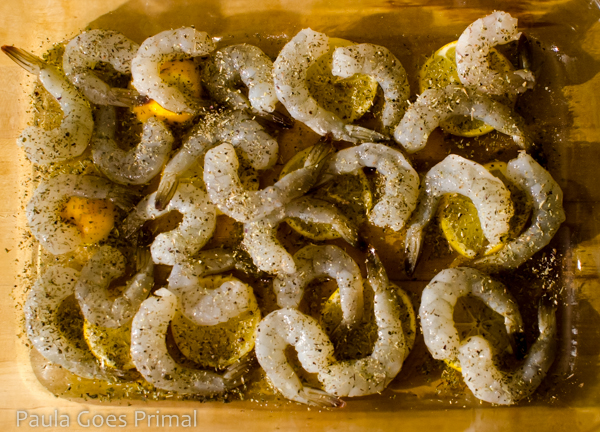 I never ever measure my seasonings. That's the honest truth. I eyeball everything and just go until I think it looks like enough. But I totally understand if you want to measure stuff! So I can tell you that overall I use about one to one and a half tablespoons of dried herbs in this recipe. You might make it once and think, I really would like more flavor — if so, add more the next time! If you also want to eyeball it, look at the picture of my shrimp and you can see what it looks like — pretty much covered in the seasoning 😀
Add some lemon slices to the top if you want, then place in the oven and bake for 15 minutes. When it's done, the shrimp will look pink and white.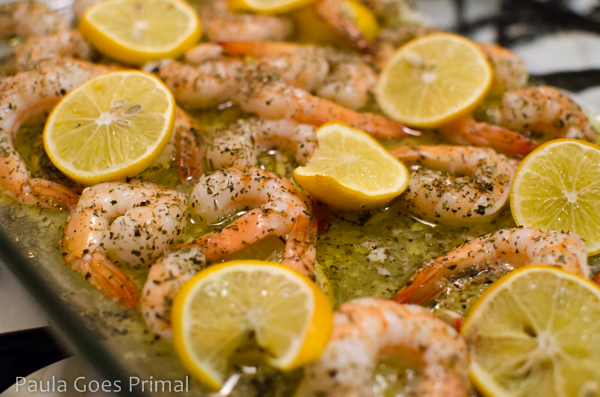 These shrimp are SUPER easy and you wouldn't believe how tasty and impressive they are. They are excellent for serving to guests too! Serve them as an appetizer or as a main course with some cauliflower rice or baked potatoes or on a giant salad! The possibilities are endless 🙂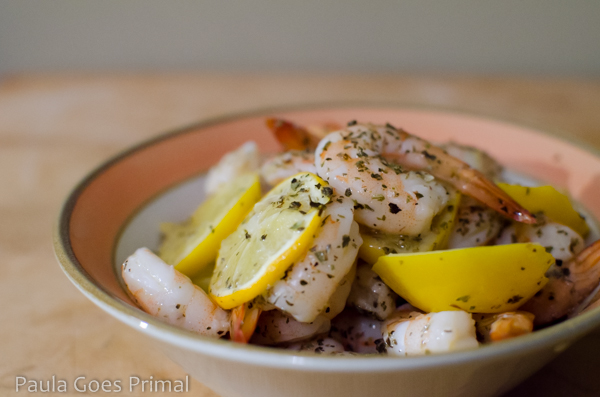 Take a 13x9″ pan (I use a glass one) and melt about 1/4-1/3 cup of ghee in the bottom. (The easiest way is to put the ghee in the pan and put the pan in the oven for a few minutes.).

Slice two lemons thinly, and place them in the pan in a single layer (reserve a few for the top if desired).

Add the shrimp to the pan on top of the lemons (also in a single layer) and sprinkle with a generous amount of salt, pepper, and italian seasoning. You can actually use ANY seasoning you want here.

Add some lemon slices to the top if you want, then place in the oven and bake for 15 minutes. When it's done, the shrimp will look pink and white.

Serve them as an appetizer or as a main course with some cauliflower rice or baked potatoes or on a giant salad! The possibilities are endless 🙂