No Fuss Oven-Baked Chicken Breasts
I've found that I really love doing Whole30. I'm about to start on my third Whole30, and I really like the way it makes me feel, and how simple it is to follow.
But it's not always easy. If you're anything like me, some days are just really tough, and the prospect of having to cook dinner leads to fantasies of grabbing a quick bubble tea and a few tacos from the corner taco truck, snuggling up next to my honey, and having a Doctor Who marathon. Well, that's specifically me, but you probably have similar thoughts.
Spending an hour in the kitchen, producing a mountain of dirty dishes, and actually having to think about what I'm doing just doesn't always work for me. There are days when I'm too physically tired, or too mentally exhausted to even want to look in my fridge. For those days, I have a few tricks up my sleeve to keep me from falling of the wagon.
One of these tricks is no fuss, oven-baked chicken breasts, completely Whole30-compliant, quick, and really versatile.
I rarely cook with chicken breasts. When I do, I usually I prefer a whole chicken or chicken wings. And I actually prefer to cook with beef, bison, or lamb most of the time. But, chicken is cheap, so I try to work it into a meal once a week.
This recipe requires no pounding, butterflying, cubing, or shredding. It takes about five minutes of preparation, and then 30 minutes of you sitting on the couch, reading a book (or other activity of your choice at the end of a stressful day). These can also be made ahead of time at the beginning of the week and reheated later or used in chicken salad.
Don't have an oven? This recipe can also work in a countertop oven! I know plenty of people who actually don't have ovens in their kitchens (my mom included!), but that doesn't mean you have to cook everything in the microwave or on a hot plate. If you're looking for a countertop oven, this website provides a list and comparison of some that are available on Amazon. Don't let your kitchen limitations keep you from cooking delicious meals! 🙂
PAID ENDORSEMENT DISCLOSURE: In order for me to support my blogging activities, I may receive monetary compensation or other types of remuneration for my endorsement, recommendation, testimonial and/or link to any products or services from this blog. Paula Goes Primal is a participant in the Amazon Services LLC Associates Program, an affiliate advertising program designed to provide a means for sites to earn advertising fees by advertising and linking to amazon.com.
---
Instructions
Preheat your oven to 350ºF. Take your chicken breasts (boneless, thawed, not frozen) out of the fridge and place them on some paper towels. I usually make four at a time. Pat them dry (like, really dry). Get a large bowl and add two tablespoons of avocado oil, or melted coconut oil or ghee. Add one teaspoon each of salt, pepper, and garlic powder. Place the chicken breasts in the bowl and rub them all around, coating them with the mixture.
Take a metal baking tray and line with parchment paper or foil. Place the chicken breasts on the tray and sprinkle with more salt and pepper. I like to also add an even sprinkling of dried parsley and thyme. You can add whatever seasoning combinations you like here. Make it Mexican with some chilli powder and cumin, make it Italian with some parsley, basil, oregano and more garlic. Go wild! Experiment (or don't if it's too much effort!).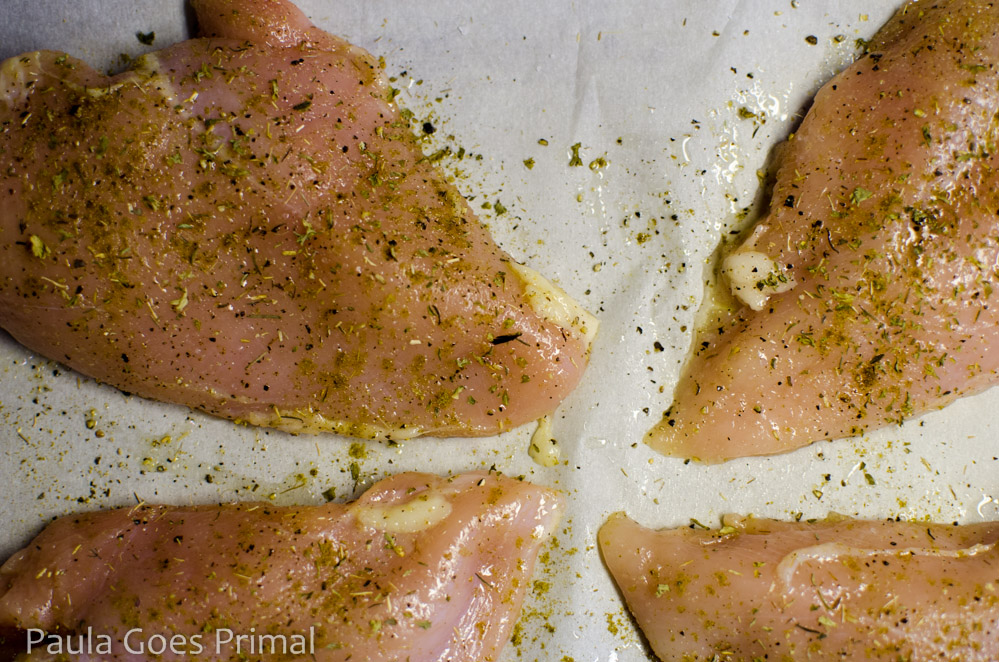 Once you've added the seasonings, pop the pan into the middle rack of the oven and set the timer for 30 minutes, and walk away! When the timer goes off, check the temperature in the thickest part of the chicken breast. If it's above 165 then you're good to go. With my oven and this method, my chicken breasts are usually about 166 after 30 minutes. Most ovens are slightly different, so you might need to tweak slightly. I would recommend checking at 25 minutes the first time you do this.
Take the chicken out of the oven and let them "rest" for at least 10 minutes before digging in. This gives you some time to set the table and make a glass of water or tea (or prepare a nest on the couch for your Doctor Who-watching binge).
This isn't the most creative, or impressive dish you will make, but it's a life saver for those days when you're not feeling especially domestic. To make it an easy, complete meal, serve it with some raw vegetables, a green salad, or top with some Hands-off Balsamic Tomatoes and Onions.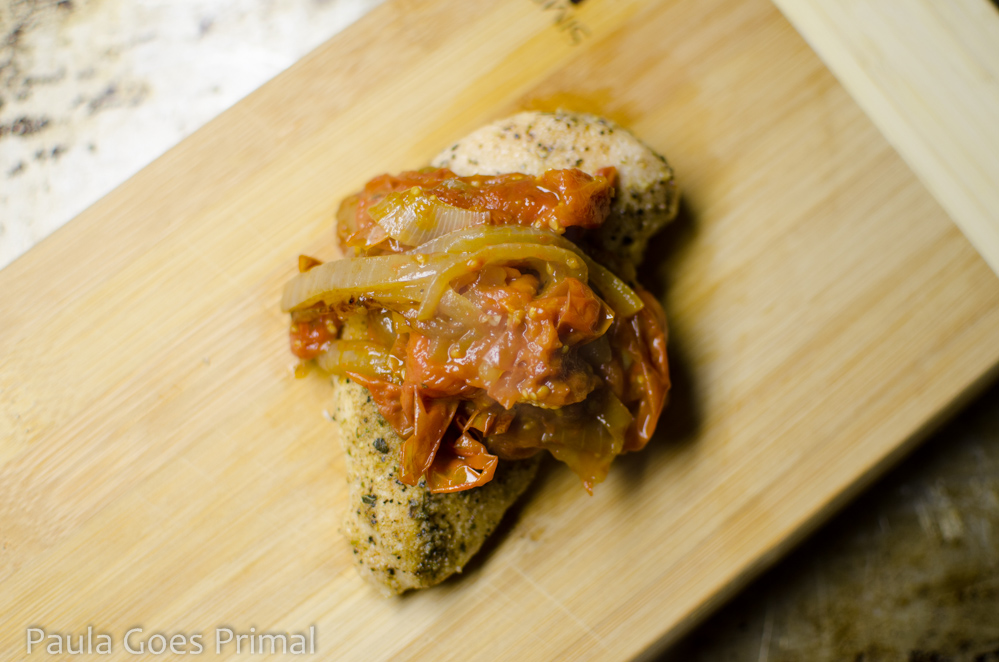 Preheat oven to 350F and pat your (thawed, not frozen) chicken breasts completely dry with paper towels.

Put the oil, salt, pepper, and garlic powder in a large bowl. Place the chicken in the bowl with the oil and seasonings and completely coat the chicken.

Line a baking tray with foil or parchment paper and place the chicken onto the tray.

Bake for 25 minutes and check the temperature of the chicken with a thermometer. The temperature should be at 165F.

When the chicken is done (25-30 minutes depending on your oven), take them out of the oven and let them "rest" for at least 10 minutes before serving.

Serve with raw or sauteed veggies, a green salad, or top with Hands-Off Balsamic Tomatoes and Onions.