Whole30 Cottage Pie
I'm a really big fan of Shepherd's Pie, but only recently did I realize that I can recreate this comfort food to be Whole30 compliant (YAY).
But wait–you may ask– why are you talking about Shepherd's Pie when the recipe is for Cottage Pie? I'm so glad you asked! Ok, maybe you didn't ask, but I will tell you anyway 🙂
I was recently looking up recipes for Shepherd's Pie and came across a recipe for Cottage Pie that was essentially the same, except it used ground beef, while Shepherd's pie traditionally calls for ground lamb.  Well, little did I know, but that's the only real difference between the two pies! You probably already knew that though.
So, this recipe is essentially both a Cottage Pie recipe and a Shepherd's Pie recipe depending on what kind of meat you use. I really love lamb, but normally have ground beef on hand. So, this time it was a Cottage Pie, but next time I will probably make it a Shepherd's Pie for a bit of variety.
I have to say, it came out really, really well and I think it will be a staple in my house now. The recipe will usually serve about four people, but my husband and I almost demolished the entire thing!
The main differences between this Whole30 Cottage Pie (or Shepherd's Pie) and a traditional one:
| | |
| --- | --- |
| Whole30 Cottage Pie | Traditional Cottage Pie |
|  Almond meal to thicken the filling | Flour to thicken the filling |
| Higher ratio of filling to potatoes | Lower ratio of filling to potatoes |
|  No peas! Yes carrots! |  Peas and carrots |
So there you have it– you can have your pie and eat it too!
---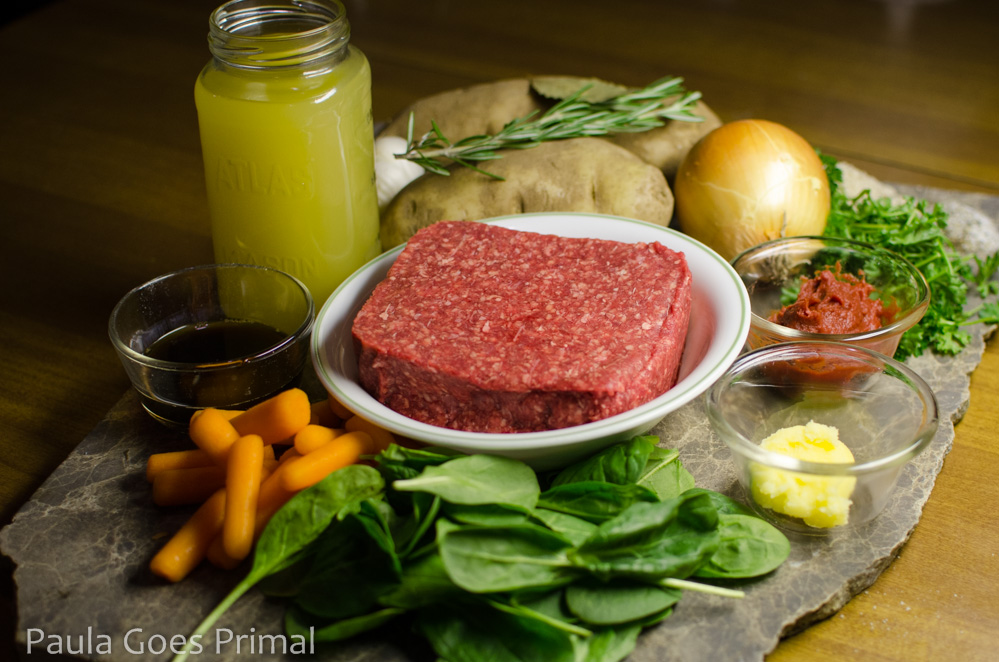 ---
Instructions
Traditionally, Shepherd's Pies and Cottage Pies, and other similar pies were a way to quickly put together a complete meal using what you had in your pantry. Shepherds typically had sheep on hand (if they didn't they were probably doing something wrong), hence the name of the Shepherd's Pie. Another version exists, sometimes called the Farmer's Pie or Gardener's Pie, that's really similar but uses only veggies. Yum!
Sometimes I like traditions, and this is definitely one of those times! In the spirit of the tradition, I think you should take this opportunity to use what you have in your fridge and pantry. Be creative! It's kind of hard to mess this up.
To begin, take a large pot with a lid and fill it with water. Take your potatoes (use sweet potatoes or yams to make this Paleo compliant) and peel them if desired. I like to leave the skin on sometimes for the extra vitamins, flavor, and texture. If you're leaving the skin on, scrub them really well with a vegetable brush. Cut them into 1″ cubes. Put them in the pot and make sure they are completely covered with water. Bring to a boil over high heat and then turn the heat down to a simmer and pop the lid on the pot. They'll be done when they are fork-tender, about 10-15 minutes.
While your potatoes are going, take a dutch oven (I highly recommend purchasing one if you don't already have one!) or other pan with high sides and add one or two tablespoons of ghee, coconut oil, or olive oil (or other oil of your choice). Heat up the oil on high for about a minute and then turn the heat down to medium and add your chopped onion and garlic. Sauté until they are starting to get tender, about 5 minutes.
Next, add your meat to the pan, breaking it up so that it gets nice and browned. You can turn the heat up a bit here if you need to. Browned meat = flavorful meat! Cook the meat, stirring occasionally until there's no pink left, about 15 minutes.
It's probably time to take your potatoes out, don't forget about them! If they're fork tender (when you stab them with a fork, they break apart easily), drain them and put them back into the pot with the lid on so they stay warm. You'll come back to them in a few minutes.
Now, remove your browned meat from the pan and set it aside in a bowl. Add a little more oil to the pan, or reserve some of the fat from the meat if you're using a high quality, grass fed meat. If not, you may want to drain it.
Heat the oil or fat up for about a minute and add one to two cups of veggies. I used carrots because that's what I had on hand. If you're using carrots, chop them up small and add them to the pan before any other veggies because they take much longer to cook. Cook the veggies on medium heat until they are soft. For carrots, that's about 15 minutes.
Once the veggies are ready, add your herbs and spices! I added salt, pepper, fresh chopped rosemary, and fresh chopped parsley. Fresh thyme is also really good in this, and a pretty traditional herb to use. Stir everything around for about a minute until it's nice and fragrant!
Add the meat back to the pot, along with some tomato paste, coconut aminos (optional), stock or broth, and a few handfuls of spinach if you want. Stir it really well until it's all combined. Then add some almond flour or almond meal to the mix to help thicken it up a bit (this is optional as well–coconut flour works here too, but be careful because it doesn't take much!).
Lower the heat to a simmer and cook for about 30 minutes, stirring occasionally.
Meanwhile, come back to your potatoes (you didn't forget about them, did you?)! Add some salt and pepper, one to two tablespoons of ghee or coconut oil, and some stock or broth. Mash all this up with a potato masher and taste it. Add more salt and pepper, ghee, or stock as needed to get your desired consistency and taste. Cover them back up until the meat filling is ready.
When the meat is done simmering, taste it again and add more seasonings if needed. If you're in a rush (like I was), you can just spoon the filling into a bowl and put some potatoes on top. Voila!
If you'd like to add an extra step, preheat your oven to about 350º F, pour the filling into a casserole dish, and spread the potatoes on top. Stick it in the oven and bake until it's bubbly and the potatoes are browning on top.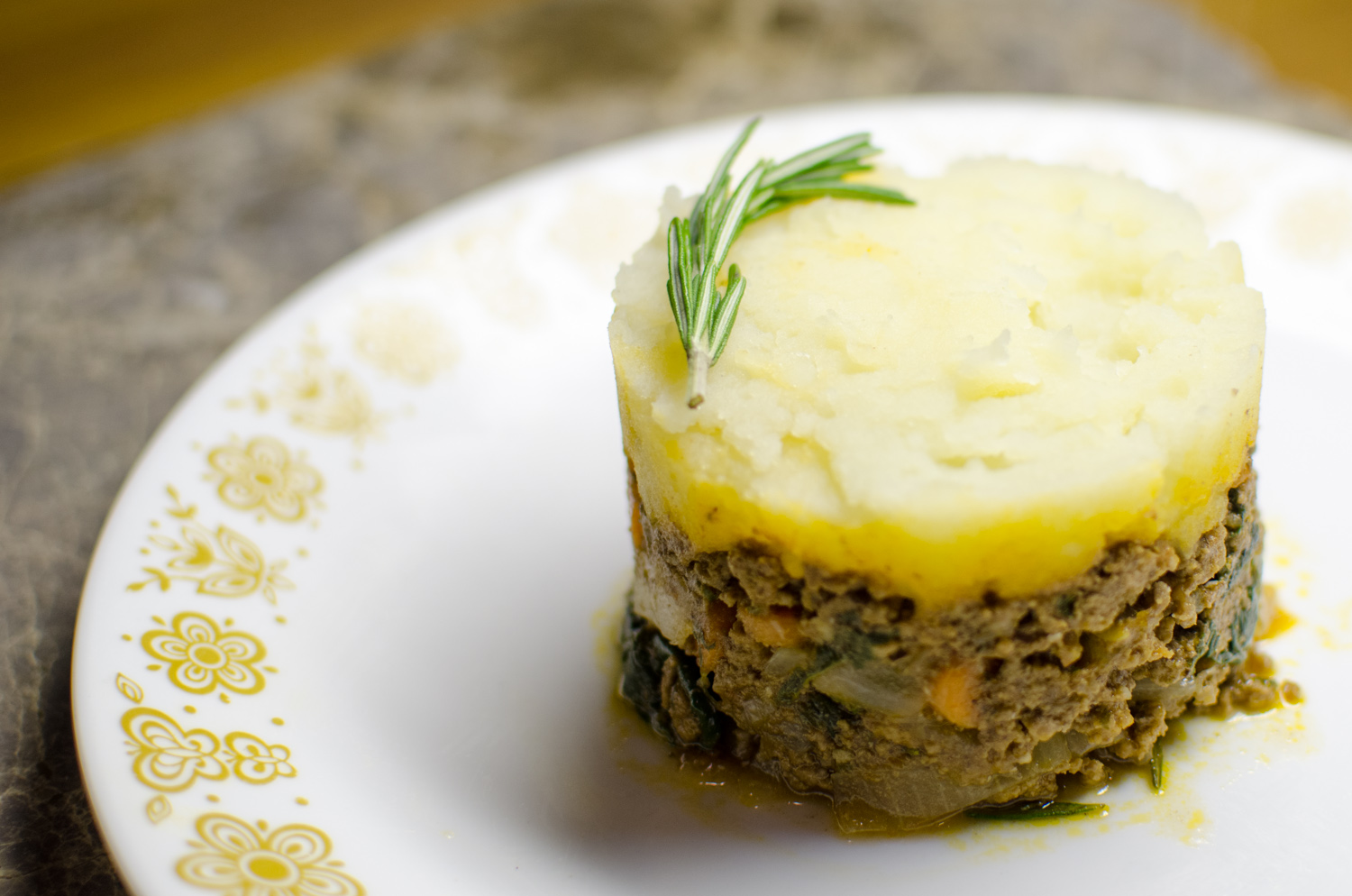 If you're feeling super fancy, you can take a food shaper and construct a 5 star restaurant plate and garnish with fresh herbs (like I did for the fancy food photo shoot for this post!). This is especially impressive if you have guests or are taking photos…but I don't recommend it for Monday night dinner. Just scoop that stuff into a bowl and chow down!
---
Disclaimer: I am not a dietician or medical professional, nor do I claim to be an authority on what foods are compliant with specific diet plans, so please take my advice with a grain of salt (ok, maybe a whole teaspoon). Please, be responsible and consult a physician if you have specific health concerns. Also, if you see anything you don't agree with on my blog, feel free to comment and let me know! I'm a human being and make mistakes occasionally 🙂 Thanks!
---
Cube potatoes and add to a large pot of water, making sure they are covered by at least two inches of water. Bring to a bowl, then lower the heat down to a simmer and cover with a lid. They'll need to cook for about 15 minutes, until fork tender.

Heat 1-2 tablespoons of ghee, coconut oil, or olive oil on high in a dutch over or pan with high sides for about a minute.

Add chopped onion and garlic and cook on medium heat for about 5 minutes, or until they begin to soften.

Add your meat, breaking it up in the pan. Brown completely until there is no more pink left, about 15 minutes.

Don't forget the potatoes! Take them off the heat when they are fork tender, drain, and return to the pot, setting aside and covering with a lid to keep them warm.

Remove the browned meat from your dutch oven and set aside in a bowl.

Add more ghee or oil to your dutch oven and heat on high for about a minute.

Lower the heat to medium and add your chopped vegetables, making sure you add carrots first since they take more time to cook. Cook until all vegetables are soft. Carrots take about 15 minutes.

Add salt, pepper, and fresh herbs, stirring for about one minute, until fragrant.

Add the tomato paste, coconut aminos and fresh spinach (if using). You can also add some almond flour or almond meal to help thicken the meat filling.

Simmer uncovered for 30 minutes.
While the meat filling is cooking, make your mashed potatoes. Add the ghee or coconut oil, stock, and salt and pepper to the pot of potatoes and mash with a potato masher until they reach your desired consistency.

Taste and add more seasoning and stock if desired.
Once the meat filling is done, you can serve immediately with mashed potatoes on top, or transfer to a casserole dish, cover with the mashed potatoes, and bake in the oven at around 350 F until the filling begins to bubble and the potatoes begin to brown, about 20 minutes.