Whole30 Fry Sauce for Dipping!
I love dip. Which is one of the reasons why I love guacamole. For some reason, dipping stuff into a sauce before I eat it just makes it so much more fun!
Condiments open up a world of possibilities for your food creations. Not only do they make excellent dipping sauces, but you can also add them to salads to dress them up a bit, or plop a dollop on top of your food for a little extra flavor.
After I discovered the easiest Whole30 compliant mayo in the world, I knew I would be making tons of different variations of dipping sauces and condiments with it.
Obviously, one of the first creations I wanted to try was fry sauce (sometimes called secret sauce). If you don't know what fry sauce is, you are seriously missing out. You must try it ASAP. I could describe it to you (it's basically a mix of ketchup and mayonnaise, with some extra seasonings), but that would not do it justice.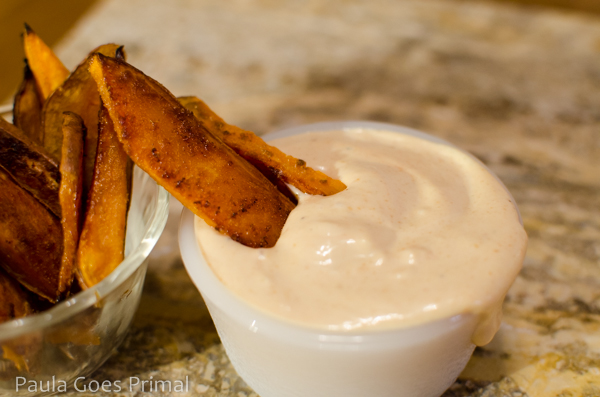 The problem was, I hadn't perfected a good Whole30 ketchup yet, so where should I start? I tried to identify all of the flavors in ketchup, and came up with a plan to replicate its flavors in the fry sauce. The result was quite spectacular, and I must say it's one of my finest creations to date. Also? It's SUPER easy to make!
I think the next condiment I'll work on creating is a Whole30 ketchup. I have a pretty good idea already of what I'll be using, but has anyone else made homemade ketchup? If so, can you comment below giving me your tips?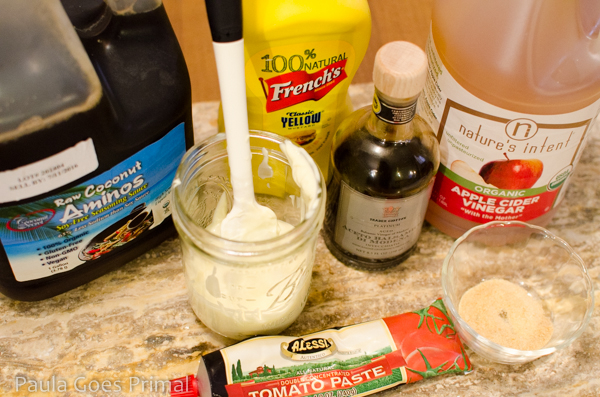 Special ingredients
You will need a few special ingredients for this recipe. I say special because they might not be in your pantry already — but I highly recommend purchasing them because they have so many other amazing uses.
The first one is real balsamic vinegar. I use one from Trader Joe's. Real balsamic vinegar is viscous (not watery) and doesn't have any added ingredients like sugar. Check out the Whole30 Program Rules if you're unsure about what ingredients you should stay away from. Balsamic vinegar is really amazing for making salad dressings and is delicious drizzled on top of strawberries. You can also cook with it. It adds a unique, sweet, tart flavor.
The second special ingredient is coconut aminos. Not only is it an excellent (soy-free) substitute for soy sauce, but its umami flavor is a great addition to many recipes, and I use it all the time.
You can probably make a decent fry sauce without the coconut aminos, but I really really recommend you purchase some. I wouldn't try to make this recipe without the balsamic vinegar though!
Third, you'll need some tomato paste. While this isn't really that special, I recommend you purchase some super concentrated tomato paste in the tube (like in the picture above). It's such a convenient, non-wasteful way to use a little bit of tomato paste at a time. I also purchase it in the little cans for using in recipes like my favorite chili, but find that the tube is perfect for when I need just a few teaspoons at a time. You can find it at the grocery store, usually in the imported foods section. Check the ingredients to make sure it's all compliant!
Instructions
You'll need to start with 1/2 cup of Whole30 compliant mayo, I use avocado oil to make mine, and it's super easy (you can do it in less than two minutes).
Then, add all the ingredients to the mayo and stir. That's it! Wasn't that easy? Now, take a taste and tweak to your heart's content. Not sweet enough? Add a little bit more balsamic vinegar. Not tart enough? Add some lemon juice or apple cider vinegar. Does it need a smokier flavor? Try adding more mustard or coconut aminos. This fry sauce is yours, own it!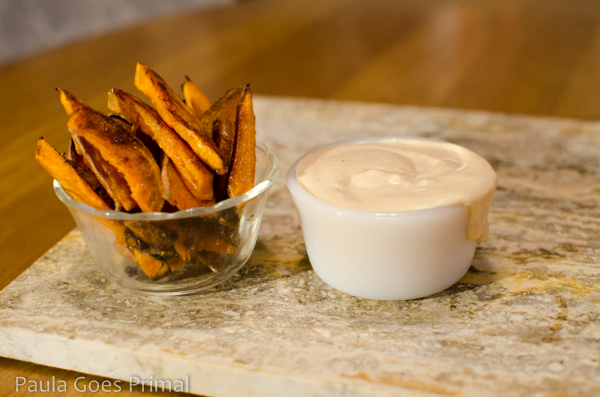 Now, it is called fry sauce, so I highly recommend dipping some baked sweet potato fries in it, but please don't stop there! It's also really great on other roasted root veggies, a burger, with meatballs, or sausage. Maybe try dipping some baked avocado fries in it? The possibilities are pretty endless.
Add the mayo to a small bowl or mason jar, along with all the ingredients

Mix well and taste. If it tastes too sweet, try adding a bit more mustard or coconut aminos. If it's not tangy enough, try adding more lemon juice or apple cider vinegar. Extra salt and spices will enhance the other flavors, but be careful and add them slowly, tasting as you go! A little too much could ruin the whole batch.

Store in a glass container (like a mason jar) with a well-fitting lid for up to 4-5 days. The flavors will be best on the second day, so I like to make this ahead of time or at the beginning of the week.